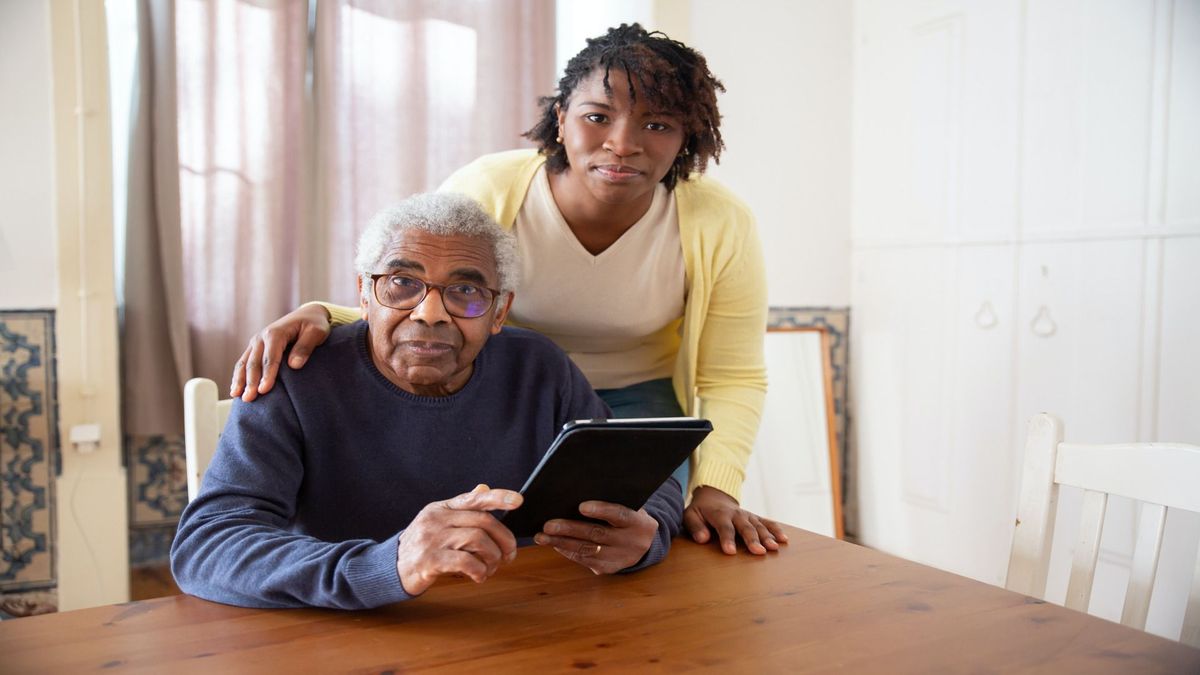 If you're considering home care for your loved one, you may be trying to add up the costs in your mind. You may find yourself somewhat relieved as you do so, since care at home can be one of the most affordable senior care choices.
Home care allows your loved one to age in place in their own home, a choice preferred by 90 percent of seniors. By having a caregiver at home, you add a layer of safety to your loved one's life, drastically reducing the risk of fall-related injuries.
Home care is also an excellent option for seniors who are experiencing the early stages of Alzheimer's disease or dementia. Living in their own homes provides a level of comfort and familiarity that can help slow the progression of the disease in some cases. In addition, home care helps ensure that seniors get their medications in a timely manner without skipping doses due to forgetfulness, adding another measure of health and safety.
The costs of home care
The costs of home care are determined by several factors:
Where you live
The amount of care your loved one needs
The type of care your loved one needs
In most cases, home care services run between $20 and $40 per hour. If you're in a rural location, you're likely to pay near the lower end of that range, while those in cities incur higher costs.
One of the reasons in-home care can be an affordable option for many seniors is that you can determine the amount of care needed. Perhaps your loved one just needs a little help for a few hours a day. If so, you pay only for what you need, as opposed to being in an assisted living or skilled nursing facility, where you're paying for round-the-clock care.
In addition, you can choose the type of care based on your loved one's actual needs. If your loved one has a significant medical condition, such as diabetes, you may need to hire a skilled medical professional. However, if they just need some assistance with the activities of daily living (ADLs), such as dressing, bathing, and cooking, your hourly costs are likely to be lower.
What are the options for home care?
Your loved one's home care options depend on their needs, and the costs adjust accordingly. In most cases, home care provides non-medical services. In home caregivers help with the activities of daily living (ADLs), such as bathing and grooming. They prepare meals as needed, and they may also provide transportation for seniors who can no longer drive. In addition, they typically handle light housekeeping chores and medication management. This type of non-medical senior care is the least costly of all in-home care.
If your loved one has significant medical needs, they may still be eligible for home care. You may need to contract with a nurse or nurse practitioner, or you might combine a non-medical caregiver to help with activities of daily living (ADLs) with regular visits from a medical professional to handle injections, therapy, and the like.
Sometimes, seniors require 24/7 care. If your loved one has Alzheimer's disease or dementia, they may get up often during the night, or they may be prone to wandering at any time of the day or night. In this case, you may seek out live-in care. Often this means paying on a daily, weekly or monthly basis rather than an hourly one, as well as finding respite care to cover the primary caregiver's time off. While this type of round-the-clock care is more costly than hourly care, running anywhere from $1,000 to $5,000 per month, it may be less expensive than comparable care in an assisted living facility, and your loved one is likely to feel more reassured and comfortable in their own home.
Understanding what your loved one needs most
As you get ready to crunch the numbers on the cost of home care, start by assessing what your loved one needs. Here are some key questions to focus on:
Does your loved one have medical needs (e.g., diabetes) that require regular visits from medical professionals?
How independent is your loved one? What activities of daily living (ADLs) are they able to handle, and how much help do they need? Are they able to cook for themselves and drive safely?
Does your loved one show signs of dementia? Is it safe to leave them alone overnight? Have they shown signs of wandering?
What can you honestly afford to spend on home care?
What can you afford?
How do you know what you can afford to pay for home care? Start with this handy cost-of-care calculator to help you understand some basic numbers.
Figure out what care your loved one actually needs, and make some calls to local care providers to get a sense of the average hourly rates for non-medical home care in your community. You may find that you can fit the needed care within your loved one's budget comfortably or that cutting out some variable expenses makes a difference.
If you see a gap once you've crunched all the numbers, it's time to start looking at the various resources available to help pay the costs of in-home care.
Resources to help pay for home care
While traditional health insurance doesn't usually pay for non-medical home care, it's worth checking out some of these resources to see what assistance may be available.
Medicare
Medicare may help with medical care supplied in the home, but it won't pay for non-medical assistance with the activities of daily living (ADLs).
Medicaid
If your loved one's income is low enough to qualify for Medicaid, they may be eligible for financial help with home care. Eligibility and available benefits vary by state, so check your local Medicaid office.
If your loved one needs skilled nursing care but wishes to stay in their own home, they may be eligible for the Program of All-Inclusive Care for the Elderly, or PACE, designed to keep more fragile seniors out of nursing homes. PACE isn't available in all regions, and generally seniors must qualify for both Medicare and Medicaid to be eligible.
Other assistance for home care
Veterans and their spouses may qualify for help with home care through several programs available through the Department of Veterans Affairs. Check out the Skilled Home Health Care Services, Homemaker and Home Health Aide Services, and Family Caregivers Programs to see if your loved one qualifies.
If your loved one has a long-term care insurance policy, it should cover all the basic costs of home care. Review the policy carefully to look for any limitations or caps on benefits. In addition, some life insurance policies have cash value that can be used to pay for qualified in-home care costs.
Respite care is another option to help mitigate the costs of long-term care or to provide a break for live-in caregivers. Several organizations provide a few hours a week of respite care, often for free. Check out Alzheimer's respite care programs offered by the Alzheimer's Association and the Alzheimer's Foundation of America. The VA also offers respite care, as does the National Family Caregiver
Roxy care Home Nursing
At Roxy care, we believe Service to Mankind is Service to God. Making healthcare affordable
and accessible to every person is our main goal.
Roxy care homecare provides a wide range of nursing services available at your doorsteps.
Experience the top-notch home care nursing services with us.
To book your service,
Reach us out on 08095018181